Permanent top performance
That is the quality promise of our model TANTUM.
With its variable configuration up to 144 W and various mounting options, this family of luminaires is at the same time an all-rounder.
Whether it is a car farm, a freight yard or an airport apron:
When it comes to the illumination of large areas, the TANTUM with its balanced price / performance ratio is the right choice.
Permanent top performance
To convert the complete parking lot of the Thiersheimer Autohof on the A93 with highly efficient LED-lamps was the task of DELSANA. After professional planning only one luminaire model came into question: TANTUM.
Equipped with 8 light units of the convinced this lighting model immediately! The 10 to 15 lux required for a parking lot of this type were achieved with 115W system power per luminaire. And at least 12m light point.
Some project highlights
Lighting old: 14x

HQI

400W (plus 40W ballast)
Lighting new: 14x

TANTUM

115W
Savings: 75% (including night reduction)
Savings per year: approx. 3,000

EUR

(at 17 ct./kWh)
Amortization time: approx. 3.5 years
Similar projects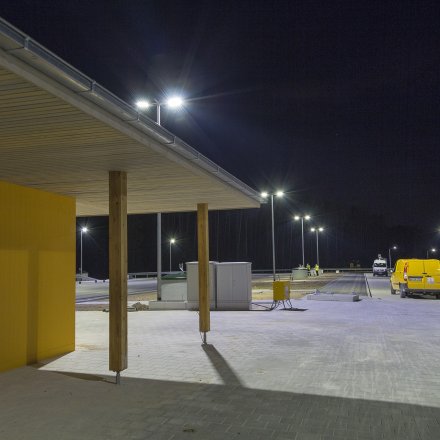 Die Parkplatz- und WC-Anlage Auergründel an der A6 - realisiert mit den DELSANA LED-Leuchten CANTARA MODUM und CANTARA BREVA.
{{artLst-continue-reading}}